Digital Radiography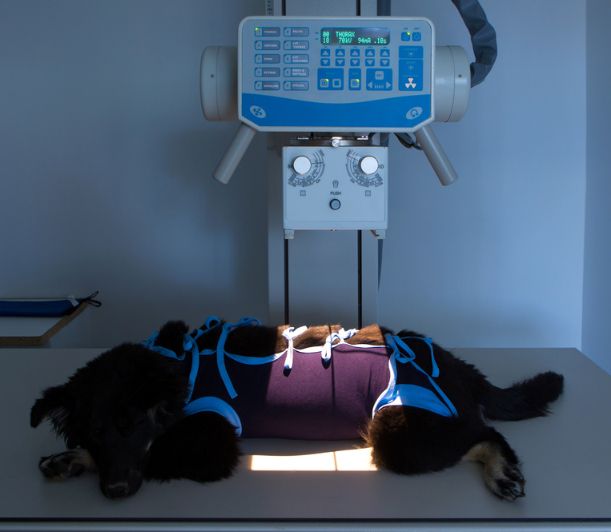 Radiographs (X-rays) are extremely helpful for diagnosing and monitoring many medical and surgical conditions. X-rays are useful in examining your pet's bones, lungs, heart, abdomen, oral cavity and other areas of the body. An X-ray can spot a fractured bone, detect tumors, help with the diagnosis of heartworm disease or locate an obstruction or foreign body in your pet's intestine or stomach. When used in conjunction with other diagnostic procedures like ultrasound, X-rays can accurately diagnose problems, making treatment faster and easier for your pet.
To provide your pet with the best medical care, Long Trail Veterinary Center uses the latest in computerized radiology equipment as part of your pet's diagnostic care. Digital radiographic images are far more detailed and offer a range of features that enhance your veterinarian's ability to make an accurate diagnosis. Because our radiographs are digital, we are also able to easily submit them electronically to a board-certified radiologist for timely consultations, if necessary.
Our Lab
Performing preventative medicine as well as diagnosing emergent internal health issues requires the ability to perform a wide range of laboratory tests on blood, urine, feces, and biopsied tissue. Without timely access to precise laboratory test results it is difficult to make an accurate diagnosis or assessment of your pet's health. Long Trail Veterinary Center has a complete in-house laboratory that allows us to perform "real-time" laboratory work such as urinalysis, parasite identification, electrolytes, red/white blood cell parameters (hematology), and complete chemistry profiles to assess liver and kidney parameters. In some cases, we can receive results within minutes. Our lab is also useful for helping us properly evaluate your pet prior to any procedure requiring anesthesia.
Referral policies
At Long Trail Veterinary Center, our goal is to provide all preventive, medical and surgical options available for the treatment of your pet. If at any time we feel it is advisable to seek a referral, options will be discussed and arrangements for a consultation with a board-certified specialist will be provided.
Your pet deserves the best veterinary medical care available. In order to provide outstanding care for your pet, we have partnered with specialists in the fields of radiology, cardiology, reproduction, ultrasound, internal medicine, oncology, ophthalmology, advanced surgical techniques, rehabilitation (major surgical orthopedic procedures) and behavior consultations.